Discover Wales Tour
Tour ID:
152
Tour Theme:
Group Tours
This tour starts from:
London
Duration:
5 Days/ 4 Nights
Tour Description: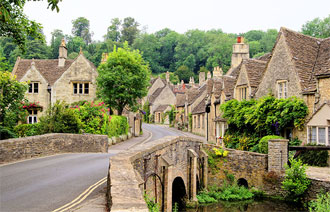 Wales is an intriguing place.Somehow this small country has more castles per square mile than anywhere else in Europe. Amazingly, 20% of the country is protected by national parks. And strangely, their national animal is a mythical dragon!
What's more is it's packed full of delightful coastal villages, incredible Roman ruins, and stunningly white beaches. But most intriguing is the warm welcome you'll experience when you travel through this wonderful country on our five day tour.

Day 1. See how the Tudors lived in Stratford on Avon. Venture through the wondrously rolling hills of the Welsh borders. You leave London and travel west to William Shakespeare's birthplace and hometown, Stratford on Avon. This town's beautiful black and white timber frame buildings are almost unchanged since Tudor times. Walk amongst them and feel as if you've been transported to the past. Following lunch in Stratford,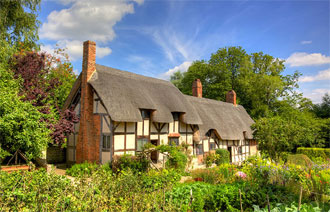 you travel west through the Welsh Marches and the borderlands between England and Wales; marked out by the ancient Offa's Dyke. The route then leads into the heart of the Cambrian Mountains and beautiful Elan Valley. Leaving here in the late afternoon, it's just an hour or so to the beautiful seaside town and cultural centre of Aberystwyth, where you spend the next two nights.

Day 2. Admire the crests and dips of sharp mountains and deep valleys at the Snowdonia National Park. Compare the ramparts of two magnificent medieval Welsh castles, at Harlech and Criccieth. Travel north into the spectacularly mountainous region of the Snowdonia National Park. You visit the beautiful mountain village of Beddgelert, where you can see the famous grave of 'Gelert', the legendary dog, or explore the nearby copper mine. From here, it's a short ride to the small coastal town of Criccieth. And nearby there's an exemplary example of one of the castles of the Welsh Princes.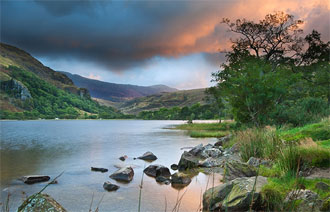 You get stunning views from the ramparts along the coast and out into Cardigan Bay. You travel on to Porthmadog and over the Cob causeway before reaching Harlech Castle. This mighty medieval castle sits high on a hill, and looks perfectly impenetrable.After a fulfilling day you return to Aberystwyth in late afternoon.

Day 3. Wander around New Quay and wish you could move into this picturesque little town. Hunt for gold in Britain's only Roman gold mine. Leaving Aberystwyth, you travel around the coast of Cardigan Bay through the quaint town of Aberaeron, and to New Quay. A sumptuous sandy harbour, whitewashed houses, and connections to Dylan thomas: this town is one of the most picturesque and interesting little towns in Britain. What's more, is from the breakwater wall you may be lucky enough to spot dolphins and whales. Turning inland, You strike out for gold at the Dolaucothi mine, which dates back to Roman times. Following this excursion you head into the foreboding Black Mountains. You may get the chance to explore a mysterious bedrock cave under a castle before you head for the coast, and visit Laugharne, where Dylan Thomas wrote the famous play "Under Milk Wood". From here it's a short distance to Tenby, the small, charming seaside town that'll be your base for two nights.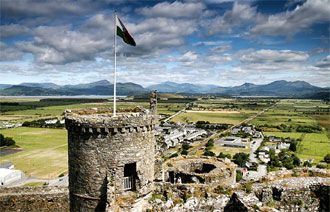 Day 4. Visit the only national park in Britain that's dedicated to gorgeous coastline views. Stumble upon the grand cathedral of Britain's smallest city, St Davids. Our last full day in Wales is spent exploring the extreme south-west. You see some of Britain's most gorgeous coastlines at the Pembrokeshire Coast National Park. This region is stunning and was the birthplace of both the patron saint of Wales, and the Twdyr (anglicised to Tudor) royal dynasty. You stop in the county town of Pembroke, where you can enter the thick medieval walls of the castle. And after this, you travel on to the tiny cathedral city of St Davids for lunch and time for exploration. In the afternoon the tour follows the coast to Strumble Head, the site of the last invasion of Britain in 1797, and on to the Presili Hills. These hills are a place of entombment in Neolithic times and the source of the bluestones of Stonehenge. From here we return once more to Tenby for a relaxed evening.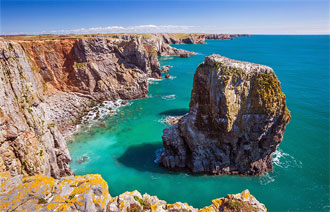 Day 5. Delve deep into history at the National History Museum and the Roman Fortress at Caerleon. Wander around the quintessential Cotswold village of Castle Combe. Leaving Tenby in the morning, you begin your return journey to London. You travel past the big industrial cities of South Wales to the outskirts of Cardiff, for a visit to the outdoor National History Museum (an optional drop-off for anyone wanting to end the tour in Cardiff is available).After a quick tour through the impressively modern Cardiff Bay area, head 2000 years back in time with a stop at the remarkably well preserved Roman Fortress at Caerleon. From here, it's time to say goodbye to Wales. You take the Severn Bridge back into England, where you have one final break at Castle Combe. This gorgeous Cotswold village perfect for a relaxed stroll amongst 16th century ironstone cottages.
From here you will head back to central London.



Itinerary:

Tour Highlights


Stratford upon Avon
Charmingly ornate wooden houses make this town a history lover's paradise.

Welsh Borderlands and the Cambrian Mountains
Cross the gentle rolling hills that have divided kingdoms for hundreds of years.

Snowdonia National Park
Discover the jagged peaks of Wales' first national park.

Harlech Castle
UNESCO described this castle as one of "the finest examples of late 13th century military architecture in Europe".

New Quay and Cardigan Bay
White houses speckled on a hill overlooking a gorgeous beach.

Dolaucothi Gold Mine
Visit the only Ancient Roman gold mines in the whole of Britain.

Laugharne and its Dylan Thomas connections
Explore the town that inspired one of the world's greatest poets.

Pembrokeshire Coast National Park & the Preseli Mountains
A spectacular coastline packed with untouched beaches and crumbly cliffs.

St Davids
Britain's smallest city contrasts a tiny population of 1,841 people with a remarkable cathedral.

Castle Combe
Don't let the name fool you. This village full of gentle cottages and trickling waterways couldn't fend off anything.