Standing Stones and Roman Baths Experience Tour
Tour ID:
143
Tour Theme:
Group Tours
This tour starts from:
London
Duration:
1 Day - 11 hours
Tour Description:


Our Standing Stones and Roman Baths tour invites you to experience legendary, historical England.
With visits to two of the most incredible groups of standing stones in Europe, a stop at the popular filming location, the 13th century village of Lacock, and a few hours to explore Bath, this is the perfect introduction to historic England.

We'll begin our day by journeying back in time at the best-known prehistoric monument in Europe, Stonehenge. You can buy your tickets now or from your driver-guide on the day so you can step straight into the past when you reach this incredible UNESCO World Heritage site. Our guide will take you on a personal guided tour through history as you wander the site and marvel at how and why these stones came to be where they are.

We'll continue our trip to Bath, the first city in the UK to be designated aUNESCO World Heritage Site. You'll have lots of time here to take in the stunning Georgian architecture, visit the beautiful Roman built baths and get lost in the atmosphere imagining how the Romans lived. We hope you'll join us on a complimentary walking tour of the city.The rural village of Lacock is our next stop where you can wander the picturesque streets and admire the original timber-framed cottages. The National Trust looks after Lacock Abbey and much of the village. The stunning architecture and medieval surroundings make it a popular filming location - you may recognise it from Harry Potter, Pride and Prejudice, and most recently Downton Abbey.

The final stop of our historical adventure is Avebury's Neolithic Stone Circle. Not as complete as Stonehenge but considerably bigger, it is the largest in Europe. This incredible site gives you the opportunity to walk amongst and admire the magnificent standing stones. With carefree sheep grazing nearby the magical stones, this ancient place with its calm and mythical mood is the perfect end to a day exploring.

Stonehenge, Bath, Lacock and Avebury Experience!!!
Itinerary: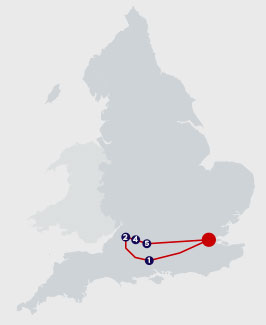 Tour Highlights

Stonehenge
The UNESCO World Heritage Site

Bath
Home to the famous Roman built baths

Walking Tours
Complimentary walking tours of both Stonehenge and Bath

Lacock
An untouched rural village owned by the National Trust

Avebury Avebury
Explore the largest Stone Circle in Europe

End of tour